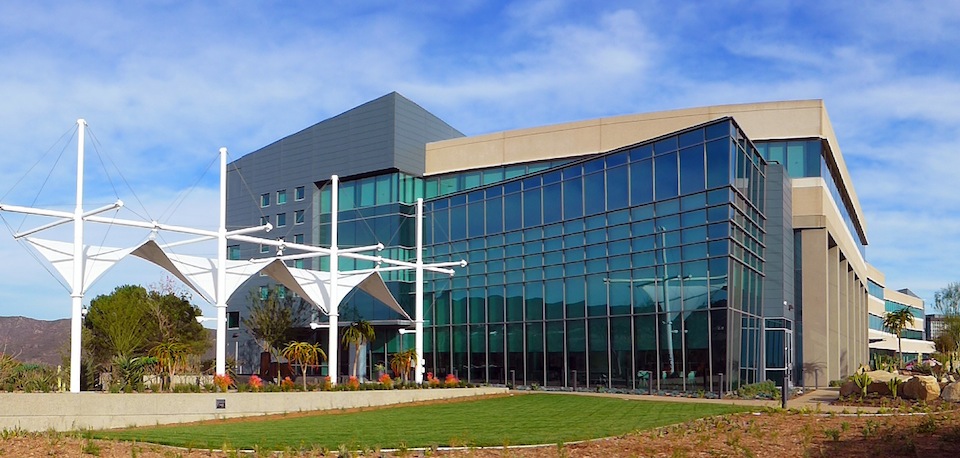 Dart NeuroScience LLC (DNS) is a Delaware company formed in 2007. On January 1 2012,
Helicon Therapeutics
, Inc. merged with DNS. The company will continue to grow to more than 250 employees and recently relocated to its new facility (above) in Scripps Ranch, San Diego. DNS is discovering new technologies and developing new therapies to help maintain cognitive vitality throughout life.
To this end, DART™ research in neuroscience reflects a targeted and multidisciplinary strategy that includes:
Genetic, biochemical, physiological, and behavioral approaches to identify genes, networks, and pathways underlying cognitive processes, including memory, and diseases affecting such processes.
High-throughput drug screening and medicinal chemistry to develop compounds for treating cognitive and motor disorders and enhancing brain functions that may be damaged by the progression of disease.
Chemical, structural, and computational methods to expand chemical libraries and design new molecules that interact with proteins in the CNS.
Assays and diagnostics to analyze functional properties in specific brain domains and map corresponding deficits, with a focus on the impact of disease on those domains and the creation of deficits.
Specialized therapies to rehabilitate and enhance brain function by combining specific training protocols with augmenting agents.
In 2015 Dart NeuroScience LLC will host the 2nd Annual
Extreme Memory Tournament
-- a series of short, exciting, head-to-head memory battles where competitors face off, challenge their memories in extreme ways, and win big.
Last, but not least, Dart NeuroScience is proud to announce the launch of the
The Extreme Memory Challenge
-- an online memory task that scientists at Dart NeuroScience (DNS) have developed to help them identify people with the best memory in the world.